Amount Awarded: $21,162 ($16,162 member donations + $5,000 Schulze matching donation)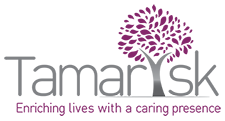 Tamarisk's mission is to create a caring presence and a safe haven for the thoughts, feelings, and concerns of persons, and their families, faced with the end stages of terminal illness. We attend to our companions' non-medical needs, while simultaneously providing much-needed respite to caregivers.
Learn more about Tamarisk at: www.tamarisk.org
Tamarisk was the selected charity for June, 2018.