Amount Awarded: $26,556 ($17,452 member donations + $9,104 Schulze matching donation)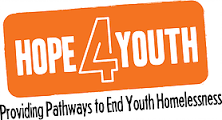 HOPE 4 Youth meets the basic needs of young people (ages 23 and under) experiencing homelessness and those at-risk of becoming homeless in the north metro Twin Cities including all of Anoka County and parts of Hennepin County.
On any given night, more than 4,000 homeless young people in Minnesota. We work hard to change the life trajectories of the youth who walk through our Drop-In Center door. Whether they need basic necessities – food from the food pantry, clothes from the clothing closets, a hot shower, a hot, nutritious meal or personal hygiene items – or help finding housing, securing employment, finishing their education or assistance with health referrals, we help put them on a path that allows them to leave their title of "homeless" in the past.
Learn more about this organization at www.hope4youth.org
Hope 4 Youth was the selected charity for September, 2016.